Discover more from A Thread of Order
I write about pro tennis. Technique, strategy, motor learning, and the mental game.
Over 2,000 subscribers
News-wise there isn't much to report on the Big-3, but given the post-Wimbledon lull in the calendar I thought it was a good time to revisit the trio in an aspect of the game I haven't really touched on.
Roger Federer, Rafael Nadal, and Novak Djokovic have each embossed monumental legacies on the game and given tennis fans some of the greatest matches of all time. I've written before on the Big-3 and how the relationship between swings, racquets, and tactics interplay in complex and nuanced ways. While much of this newsletter has focused on the swings of players, it would be wrong of me to suggest that swings are more important than footwork; tennis is a dance that is played from the ground up. In this three-part series, I will draw your attention toward the subtleties of their footwork and how it influenced the game more broadly.
Part I - Federer
I begin with Federer because he's the oldest and exhibited footwork that is slowly being phased out with younger players. He's also the one who had to adapt his footwork the most as the benefits of open-stance hitting became paramount in a baseline era predicated on your ability to cover the court laterally. Anyone who is even vaguely familiar with Federer is aware that part of his legacy rests on the fact that his game was often labeled as 'graceful', 'elegant', and 'beautiful'. Countless players, commentators, and writers have gushed about his footwork in particular. He is a tennis icon for reasons that I think make sense when you analyze his technique; embedded within snapshots of his strokes and footwork were principles of aesthetic design, such as harmony, balance, and repetition. Of course, in keeping with good design, form always followed function (and a lot of winning). Let's start with some old-school footwork displayed perfectly in the (cracking) opening point of the 2005 Tennis Masters Cup final between Federer and Nalbandian1:
I picked this match because this is the last World Tour Final to feature two players who used this kind of footwork on the wide forehand so often. What you will notice is something we also saw from Alcaraz in my Wimbledon Final analysis. There is a certain "running through" the shot that is devoid of much torso rotation or typical open-stance play.
Here is an isolated example of Federer using it in an aggressive fashion:
You can see Federer steady himself on the penultimate step for a fraction of a second as he measures up the shot before crushing the ball crosscourt. This stepping across, or running through, with the left leg creates what is called a "reactive brake".
---
Reactive Brakes
Reactive brakes are crucial to tennis. They help to slow the rotation of the body and accelerate the racquet into contact. Players use them on serves:
On forehands: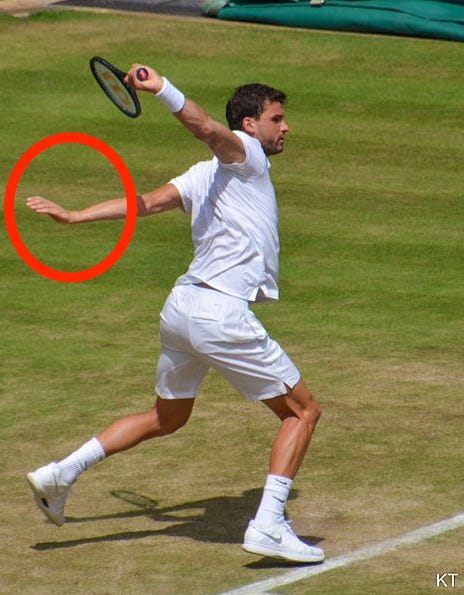 A player's feet and legs also act as reactive brakes.
As mentioned in the video above, the "scissor kick" uses a backward kicking motion of the rear leg that allows the player to "push" when airborne.
Now back to Federer.
Why I think Federer often gets described as a ballet dancer or floating demigod is because he used reactive brakes in so much of his game and to such a large extent. See the below example of an inside-out forehand with a large scissor-kick.
Now when you watch Federer and attend to these reactive brakes, you see them in a very pronounced manner in so much of his game: in his single-handed backhand, in the stillness of his head, and in many forehands where he employs a scissor kick. The point below from the famous 2008 Wimbledon final against Nadal is a great example. On nearly every shot you can see these reactive brakes so clearly in Federer's shots.
And this countermovement of Federer's legs is something that I think the eye finds pleasing.
But why?
In a recent essay by menswear writer Derek Guy (Die, Workwear!) he outlined some principles of good design from a book, Art in Everyday Life, that demonstrated how contradicting lines can draw your attention via contrast and bring harmony to clothing (and forehands?).
"…the eye and the mind do not enjoy a haphazard collection of shapes and colors."

—Harriet and Vetta Goldstein, Art in Everyday Life.
The scissor kicking of Federer's game creates a similar effect of contradiction.
But it also adds another element that makes him mesmerizing: there's a little bit of "His Airness" at play:
"The metaphysical explanation is that Roger Federer is one of those rare, preternatural athletes who appear to be exempt, at least in part, from certain physical laws. Good analogues here include Michael Jordan, who could not only jump inhumanly high but actually hang there a beat or two longer than gravity allows, and Muhammad Ali, who really could "float" across the canvas and land two or three jabs in the clock-time required for one. There are probably a half-dozen other examples since 1960. And Federer is of this type — a type that one could call genius, or mutant, or avatar. He is never hurried or off-balance."

—David Foster Wallace, Roger Federer as Religious Experience
Michael Jordan was famous for his hang time, which was really an illusion created by extending his limbs as he peaked. This form of kinetic magic has been employed for many years in another physical discipline: ballet. A physicist explains the grand jete in Science That Matters (emphasis added):
"Harvey, who retired from the ABT in 1997, was known for those jumps; she had a great "hang time," although neither she nor any other jumper ever really hangs, Laws notes. Once the dancer leaves the floor, she is like a ballistic missile: Her center of gravity follows a fixed parabola. She can't change that, but she can move parts of her body. By scissoring her legs open as she nears the top of the arc and then closing them again as she descends, she makes them take up most of her center of gravity's vertical motion. For that instant, her head and torso can actually move horizontally. Spectators focus on those parts and think the whole dancer is floating."
The martial nature of sports isn't often accommodating to talk of "beauty", but I think any athlete who captures those principles with their technique has the power to influence their game to a degree their contemporaries can't.
"Beauty is not the goal of competitive sports, but high-level sports are a prime venue for the expression of human beauty. The relation is roughly that of courage to war. The human beauty we're talking about here is beauty of a particular type; it might be called kinetic beauty. Its power and appeal are universal. It has nothing to do with sex or cultural norms. What it seems to have to do with, really, is human beings' reconciliation with the fact of having a body."

—David Foster Wallace, Roger Federer as Religious Experience
The universal appeal to float is evident all around us and has always been there.3
We instinctively recognize it as worthy of our attention, whether they are athletes, artists, or logos.
So those worn-out tropes of Federer dancing/floating/gliding etc. have some merit for reasons that go beyond tennis. Anyone who can splice these elements with enough winning will be similarly rewarded. I don't think they are necessarily harder to intertwine—the winning with the countermovements—on the contrary, I think Federer instinctively mastered technique:
"If you want to carry out a delicate procedure with your right hand that involves a very finely calibrated movement to the left, it is made possible by using the counterbalancing, steadying force of the left hand holding it at the same time and pushing slightly to the right."

—Iain McGilchrist, The Master and His Emissary
But I think Federer's footwork and overall technique were best suited to offensive tennis, especially on the forehand. The scissor kick helps to promote a linear swing at the expense of topspin or a quick recovery. It is rewarded if you are moving up the court toward the net, and as the game's conditions slowed and pure athleticism came to the fore, Federer's rivals took tennis movement to its final form by mastering the recovery and ability to change direction.
In part II we will look at Nadal and how he brought tennis to new heights.
1
Nalbandian was also a smooth player that used similar reactive brakes: a very still head like Federer, less hip rotation, and leg kicks on forehand and backhand.