Discover more from A Thread of Order
I write about pro tennis. Technique, strategy, motor learning, and the mental game.
Over 2,000 subscribers
Alexander Bublik didn't win his first match of 2023 until late February (he went 0-8 to start the year) but he continued his best season to date with a win over Arthur Fils 6/4 6/4 in the final of the Antwerp 250.
All of Bublik's 9 ATP finals (3-6 record) have been made on grass or faster hard courts. He's a disruptor and a risk-taker in the Kyrgios mold. Second-serve aces, drop shots, and underarm serves are core features of his game. In fact, you could say he plays his best tennis when he kills any sense of rhythm or predictability for his opponent. He'd rather miss a second serve going for an ace, or play a drop shot on the first ball, than get into any lengthy exchange that gives his opponent the same ball two or three times.
TennisTV: "I think the hard thing about playing him [Bublik] as well, speaking to a lot of players, is you don't get a lot of rhythm against him, because of the way he plays. You go through games where he throws in a couple of aces and a couple of double faults because he's that sort of player: unpredictable."

"There's a difference between coming in on your own terms, as opposed to actually being invited in. (Regarding the Bublik drop shot)
However, one area where the Kazakhstani is very predictable and disciplined is on his first-serve return strategy: the man is a connoisseur of the block. Despite his game revolving around his lethal serve, it has been an effective strategy this week, as Damian Kust pointed out on Twitter.
I tallied the return strategies of both Fils and Bublik for the first and second serves.
A look at Fils:
And Bublik:
You can see how disciplined—and effective—Bublik was on first serve returns: he tried to come over Fils' first serve only 4 times (and only once on the forehand, which occurred leading 6/4 3/1 by my count: having a swing with a lead). Making 19/20 block returns creates a hell of a lot of pressure when you are winning >90% of your own first-serve points.
But an additional reason made this very effective against Fils in particular: the forehand grip of the Frenchman is a Western. This makes it ideal for handling high topspin balls and for easily generating his own topspin, but with low slices, it can come undone.
Yes, players of all grips and swings can shank a low block return, but the extreme Western has a distinct disadvantage against low slice (the Evans vs Khachanov 4-0 H2H in favor of the Brit is a good study in this).
This video from Top Tennis Training gives a good overview of grip differences and their inherent strengths and weaknesses.
An excerpt regarding the western grip (~11:05):
"For the vast majority of players, 99 percent of players who use this grip, they really struggle to hit the ball flatter and actually produce real pace on their forehand. Yes, they can produce heavy topspin, but they can't hit through the court, and it becomes a very hard way to play tennis because then you almost become like a counterpuncher or someone who just grinds out points from the baseline. So this western forehand grip will allow you to deal with high balls very well, but you'll struggle with the low ones….And if you're someone who's playing someone who uses that western forehand grip, you can really exploit it using the slice, especially on the grass courts or carpet surfaces."
Fils' grip requires him to brush up very steeply on a low-slicing ball to be able to get enough lift over the net. All his racquet speed has to be used in service to an extremely vertical racquet path, and this makes it more difficult for him to punish Bublik's chip return strategy by being able to hit through the ball in a more linear fashion.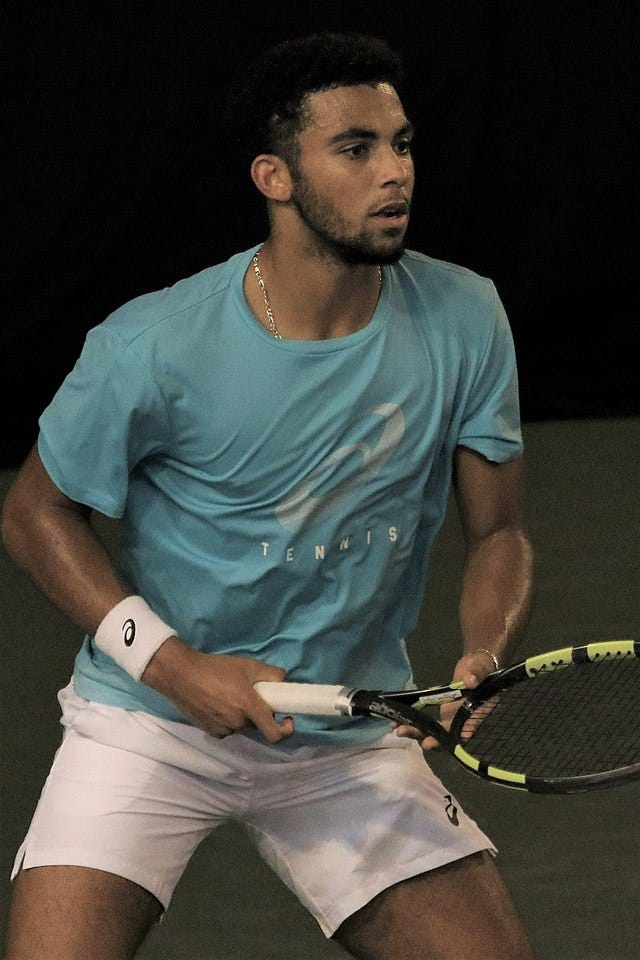 Surprisingly, this isn't because of the slice action per se, but rather, the fact that slices can be hit at lower trajectories:
"Nonetheless, our usual perception is wrong. Players and coaches are used to saying that backspin causes the ball to bounce lower and faster than topspin. Rather, it is the trajectory that causes such a bounce. The reality is that backspin actually causes the ball to slow more and bounce steeper than topspin, but backspin balls almost always take lower trajectories and thus lower bounces."

—Cross and Lindsay, Technical Tennis: Racquets, Strings, Balls, Courts, Spin, and Bounce
As a result, Bublik got his teeth into a lot of points on Fils' serve using the chip return, even when Fils got midcourt forehands. Here he forces Fils to come up with a bit of magic on the net:
On the Ad-court especially (such as the gif example above) Fils' serve performance going to the Bublik forehand was barely above 50% on first-serves. Starved of angle, with an opponent now in the middle of the court, and having to waste all his racquet speed on vertical lift, Fils was always fighting an uphill battle on a fast and low bouncing hard court. I only remember 1, maybe 2, serve-plus-one forehand winners for Fils in the match.
The obvious play here is to serve-and-volley when you go to the Bublik forehand, but by my count, Fils only tried this once all match when down break point at 15-40 at 2-2 in the first set. This was the correct strategy at the wrong time. He needed to try this in the opening point of a game, or when up in the score. He got dealt a tricky short and slow block return—a shot that requires the dialed-in feel of a regular net-rusher— but which he dumped in the net.
And while Fils himself did try admirably to adopt the chip forehand return at times, it's more difficult for the Frenchman, as his hand must voyage a long way to shift between his western and continental grips.
"That's a tough return for a guy with that grip…it's quite a big change of grip to actually chip that forehand back into play. He's capable of it, but it's a transition to make that block return when you've got the grip where he is.

—TennisTV on Fils' forehand chip return
Some players struggle to wait with their right hand in the continental position prior to the serve (as Bublik does) because it can mess with their two-hand backhand return grips and feels. Bublik can do this because it's his standard return strategy. But if you're Fils, this is a hard strategy to turn on, especially in an ATP final.
I've been a proponent of players using a chip return for first-serves ever since I got this newsletter off the ground. I've highlighted how Ruud used it effectively in 2022, covered similar metrics when Tsitsipas played Kyrgios last year at Halle, and touched on Shapovalov's attempts last year in Dubai. I guess Wawrinka has been the blueprint for slam success for the chippers and blockers out there, and I heard recently that even Djokovic—perhaps surprisingly—blocks around 20% of his returns. I have no data for this and only heard it in passing on some tennis commentary, so if someone has actual data on that it would be interesting to see if it is accurate.
Quick one again this week as I've been swamped. Longer pieces in the draft are piling up for the off-season.
See you in the comments.